Davis Talk: Store Updates & News
• Ari Citrin
  Hi everyone! It's been a long time since the last post here, I know. I'm Ari (they/them)... (a new voice on this blog) you might have seen me around the 3DKeebs Discord as @acitrin. If you're not part of the server, you can join it here. Davis is currently in the hospital and awaiting surgery after being hit by a drunk driver last night driving home from the warehouse. She is conscious but will be requiring surgery on her leg so Keebnewb and I will be taking over for a bit with store updates and managing the site. Currently placed orders will continue...
---
• Danielle Davis • donations • store updates

Giveaways, Keebsmas Marshmallows ...
---
• Danielle Davis • donations • store updates
ALL UPDATE EVERYTHANG
---
• Danielle Davis • donations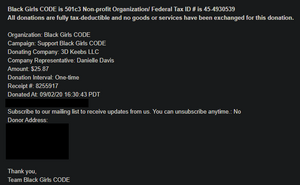 In the Name of Transparency!
---
• Danielle Davis • davis rants • store updates

Hello All,  We opened up shop less than a week ago and have received TREMENDOUS support. I'm am thankful. As always, the important info is in BOLD USPS & PayPal are trying to rain on the 3DKeebs Parade but I will not be deterred. If you are one of my lovely first customers, you may have made your order, got it fulfilled within 24 hrs (that is my commitment) and then began trying to track it only to see the below image after 2 - 3 days. That is an actual shipment ,that was shipped and confirmed delivered by the...