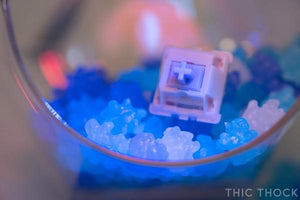 ThicThock
Konpeitou Switches & JX Stems
Regular price
$7.00
$0.00
Unit price
per
Switches Available in Packs of 10. QTY 1 = 10.

JX Stems Available in Packs of 110. QTY 1 = 110.

The Infamous, The New NEW LEGEND? Its Purple, Its Straight and Long and it has a progressive spring.. and its really smooth. 

JX Stems are also being offered separately! JX Stems are a JWK specialty POM stem meant to give you an extra buttery feeling. These stems will be color matched to match Konpeitou Switches 
Switch Details:
Linear
POM Stem

Extended Stem for improved sound profile 
Nylon Housing

PCB Mount

ThicThock MP Series 68g Progressive Spring

~50g Actuation
Groupbuy Info: 
DO NOT ORDER WITH IN-STOCK ITEMS. YOUR IN-STOCK ITEMS WILL BE REMOVED FROM THE ORDER IF YOU DO. 
1. THIS IS A GROUPBUY NOT SCHEDULED TO SHIP UNTIL Q3-Q4 OF 2021. 
2. ONCE THE GROUPBUY HAS CONCLUDED THERE ARE NO REFUNDS. 
3. PLEASE BE SURE TO JOIN US ON DISCORD or IG for MORE UPDATES, NEWSLETTER PEOPLE ONLY GET UPDATES ABOUT SHIPPING & DELAYS.
Regional Vendor Sales ( Subject to Change/ Update) 



Resources for your additional discernment needs:
DISCERNMENT SOON. DO YOUR GOOGLES.
---
Share this Product
---